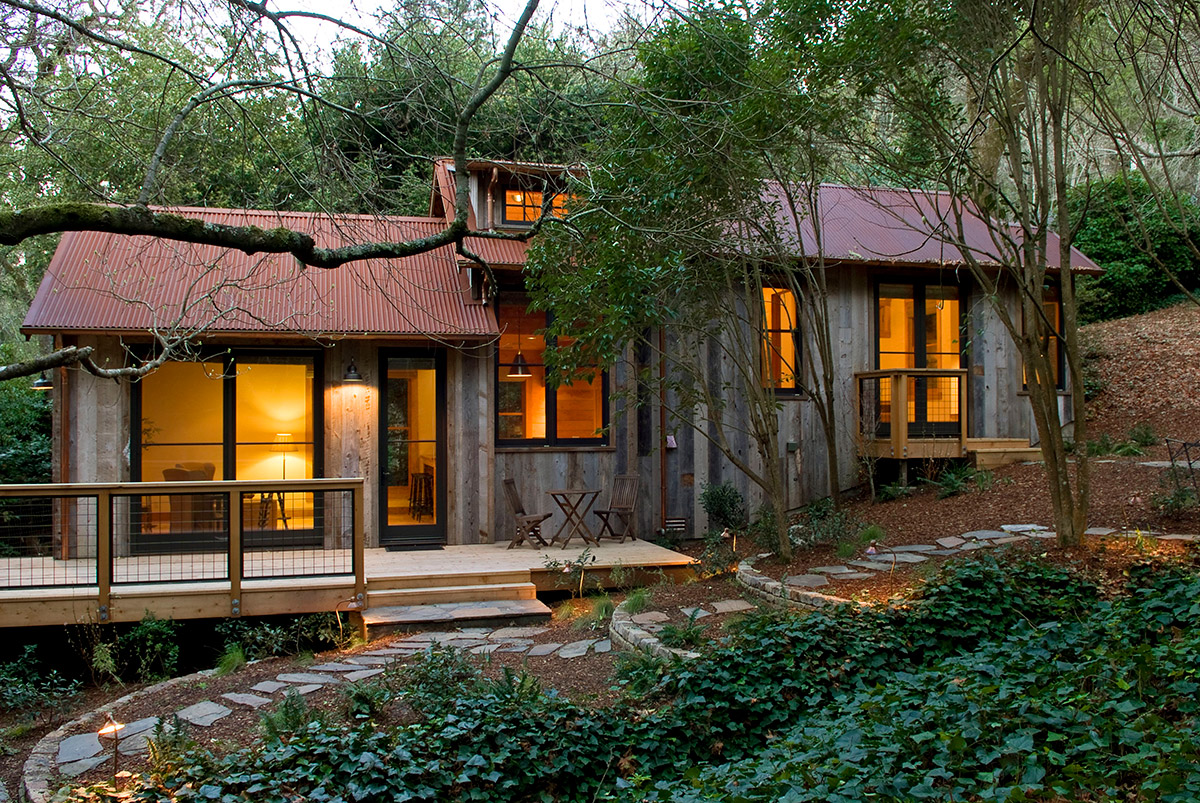 Ross Guest House, Ross, CA
While remodeling and adding to a residence in Ross we became intrigued by a beautiful old barn and a paddock the clients owned on a separate lot adjacent to their house. Together we decided to replace it with a guesthouse.The barn was beyond repair, but we were able to reuse the barn wood. Our goal was to keep with the rural feel of Ross, and to mimic the old barn.
Because the property was a separate lot, the city of Ross required that at the house be a fully functioning residence and that we provided two covered parking spaces. This imposed a challenge because we had only an average of a 14 feet wide buildable space due to setback regulations and a creek running along the property line.
Read More
We designed the 714 square foot house to include all the usual rooms of a full size house, carefully utilizing every square inch available. The living room was designed to feel bigger than it is because of the vaulted ceiling and large windows and barn doors. We placed a small but open galley kitchen a couple of step above opening up to the living area just separated by a bar counter.
Across from the kitchen we tucked a dining nook with built in seating and storage, designed much like nautical designers would in a sail boat. We put a bedroom and the and bathroom in the back of the house and a sleeping loft with windows in dormers above to provide head height.
A traditional garage and driveway would have detracted from the rural feel we desired for the property, so we designed a one car garage that looks more like a stable and provided a trellis covered space for a second car that also doubles as a patio. We used a drivable turf that looked more like a pasture than a drive way.
The interior wood work was executed by Scott Constable using locally sustainable harvested wood.