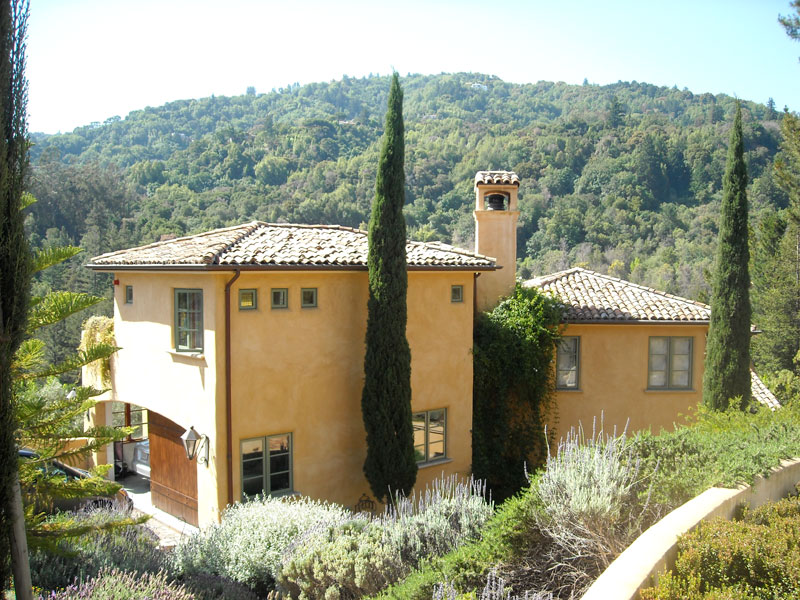 Persson Residence, Saratoga, CA
"Speaking of tension, building a house can be a stressful time, but doing it with Dotter & Solfjeld was a complete and total pleasure. We can unequivocally and enthusiastically recommend Dotter & Solfjeld!"
Jennifer and Jonas Persson, Clients
Read the full letter of recommendation
We had already had a wonderful team work set in place with the Persson family after having after having added to and remodeled their old home twice. But they needed more space and dreamed of a new home in the Tuscan style.They asked us to find them a lot. After months of searching, we found a gorgeous property in Saratoga with views reminiscent of Tuscany. 
Read More
Several architects before us had deemed this steep lot unbuildable because of the strict height regulation imposed by the City of Saratoga, but we saw great potentials.
We decided to design the house in the tradition of an Italian hillside town, cascading down the slope on several levels, in order to squeeze under the strict height limits. The mass of the house was broken up into several volumes, much like a small village. This allowed expansive views and connection to the outside throughout the home.The kitchen and family rooms open up to patios and terraced gardens through traditional french doors and a colonnade.
The clay barrel roof tiles, wooden floors, ceiling beams, nineteenth century Florentine doors as well as tiles and pavers were salvaged from old buildings in Europe.The Persson's found an old fountain in Italy that we repurposed as a powder room sink. We worked closely together with crafts local crafts people to recreate rod iron details and integrated color plaster to achieve authenticity.
Spending time in this peaceful retreat you would never know you are not in Tuscany.