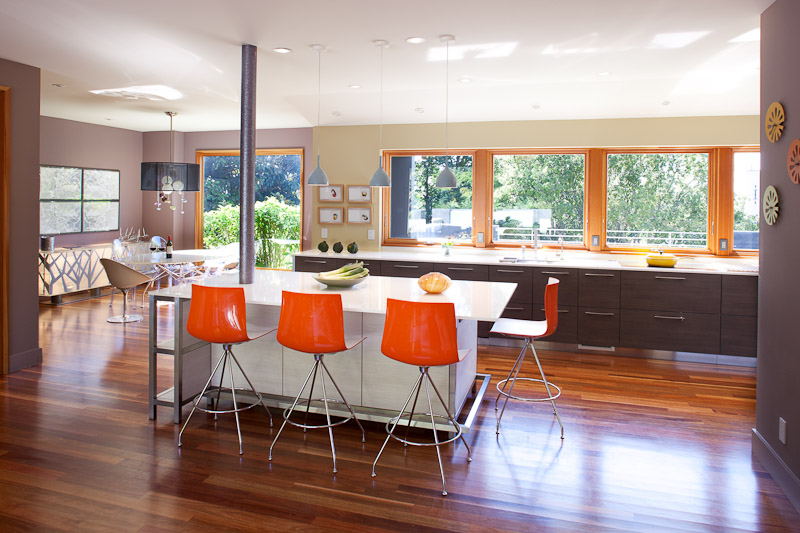 Brettkelly Residence, Oakland, CA
Visit the Houzz.com article about the Brettkelly remodel
This fifties Colonial style four bedroom house did not suit the size or the taste of this international family. Their wish was to transform the house into a practical contemporary home that would work equally well for family life and entertaining and to display their modern art collection.
One of the challenges was not to add too much square footage to the house, which would trigger a design review, a timely process.The existing home had a maze of small rooms on the view side, while a dark impractical kitchen was tucked in the back of the house and had no views. We opened up the ground floor, and designed a new contemporary kitchen at the front of the home, lining it with rows of windows, finally taking advantage of the panoramic San Francisco view.
Read More
A kitchen island and bar separates the family room which has a folding door system that opens an entire wall to the backyard. The hard to get into garage at the back of the house became a rec. room, and a new garage was built below near the street with a entertaining deck on its roof accessed from the kitchen and dining area.
We modernized the old staircase, by replacing the old wood spindle railing with a sculptural low wall spiraling up to the second floor. New sustainable hardwood floors were installed throughout the house as well as on the stair.
By innovative planning we were able to reconfigure the four upstair bedrooms into five ample bedrooms. To compensate for a smaller size, the master bedroom was moved to the view side of the house and a luxurious master bath addition with a large wet room consisting of an artistic tub and two showers. Large windows were placed just high enough in the bathroom to provide expansive views, but low enough for privacy.